PLEASE RETURN TO JOSHUA WILLAMSON AT THE IOWA NATION OR BRING THEM TO THE CHENA BUILDING, FRIDAY, SEPTEMBER 19TH AT 5PM. YOU MAY ALSO EMAIL YOUR REGISTRATION FORM TO jwilliamson@iowanation.org. ALL PARTICIPANTS UNDER 18 YEARS OF AGE MUST HAVE A PERMISSION FORM SIGNED BY A PARENT/GUARDIAN TO PARTICIPATE.
NVISION TOUR
Empowering Our Future Leaders
Iowa Nation of Oklahoma
September 19-20th, 2008
WHAT IS NVISION?
NVision is a national Native non-profit organization based in Longmont, Colorado. We are an affiliate project of the Seventh Generation Fund. NVision is committed to the development of leadership among Native youth and young adults in traditional and contemporary expressions of art, culture, education, and multi-media from a Native core and perspective on a local and national level in Indian Country.
NVision is a collective of dynamic Native men and women professionals and artists, ages 25-40, involved in arts, multi-media, film, youth leadership development, Indian education, politics/community organizing, fundraising, community development, and music, who have joined together to develop innovative and cutting edge projects and empower Native youth and young adults.
WHAT IS THE NVISION TOUR?
The dynamic and interactive NVision Tour is a multi-faceted event that will showcase Native hip hop and different traditional and contemporary styles of Native music; film; visual and performing arts; culture; media; and youth leadership and wellness workshops. Hip hop/music, film, dance, photography and art will be used as a means to teach, empower, inspire, and create dialogue with Native youth about ways to realize their visions for success, leadership, and wellbeing within a context of cultural pride. See NVision workshop descriptions to learn more how you can participate.
The NVision Tour event is geared towards exposing Native youth to opportunities, successful artists and learning basic skills from a Native perspective. NVision, through workshops, fun activities, performances and mentoring seeks to promote that Native youth can pursue their goals and visions for success in the arts and media while at the same celebrating and expressing their tribal identities and cultural lifeways. NVision seeks to promote the message that even the 21st Century, we as Native peoples "can successfully walk in two worlds."
NVISION TOUR: Empowering Our Future Leaders
September 19-20th, 2008
PROGRAM OF EVENTS
FRIDAY, SEPTEMBER 19TH NVISION TOUR
5-6:30pm: Registration and Orientation for NVision Tour
-Chena Building
6:30-7pm: Dinner
7-8pm: NVision Tour Overview
SATURDAY, SEPTEMBER 20TH NVISION TOUR
THE MAIN EVENT!!
10am-11am: Late registration & NVision Tour General Session for ALL NVision Tour Participants
-Chena Building
11am-12:30pm: NVision Workshops
12:30pm: Lunch
1pm-6pm: NVision Tour Workshops
6:30pm: Community Dinner Sponsored by Iowa Nation
-Chena Building
7pm: NVISION TOUR Youth Showcase & Live Concert
Feature NVision Youth Participant art, music, dance, and media performances
8-9pm: NVISION CONCERT
Live music performances by: Meta, Quese Imc, Happy Frejo, Ryan Red Corn & Myron Dewey. Live art performance by Bunky Echo-Hawk.
NVISION TOUR WORKSHOPS
Empowering Our Future Leaders
Iowa Nation of Oklahoma
September 19-20th, 2008
Mural Painting
Trainer: Bunky Echo-Hawk (Pawnee/Yakama)
Bunky Echo-Hawk is an internationally known visual artist and writer. His work has won much acclaim because of its contemporary approach. He merges a Native American perspective with mainstream culture. The mural workshop is a group project that will tie traditional Pawnee culture together with modern day life. The group will come up with the concept, sketch the mural, and paint it in one day. If you are an artist, or aspire to become one, this workshop is for you!
Writing | Performance
Trainers: Happy Frejo (Pawnee | Seminole)
Divided into a two-part workshop, the Writing | Talent Development session is not for the shy at heart. This team will assist in the creative direction and development of a short play as well as initiate the first blog entries to be featured on the PSA Campaign webpage.
Led by the guidance of accomplished independent filmmaker, youth trainer and actress Happy Frejo, the aim is to tap into the real human emotion and issues impacting Native youth as told from their own perspective. Together, they will lay emphasis on personal expressionism through creative writing and performance techniques.
The workshop will encompass story-board production and script-writing that builds off the central issue being addressed through the PSA Campaign. Trainers will use creative writing, brainstorming and interactive and performance techniques to help create the vision and storyboard for the short play. Participants will also utilize writing as an outlet of expression to help create a series of blog entries to be featured on the PSA Campaign social media website. The inspiration is to promote future engagement activity on the webpage from Native youth across Indian Country. Participants in this workshop will also perform their short play at the final NVision youth showcase and community celebration held on the final evening of the event.
Express Yourself: Writing & Producing Music
Trainer: Quese Imc Frejo (Pawnee/Seminole)
This workshop is designed to teach youth how to create a music track, lay vocals to it and come up with a hit song-whether hip hop, traditional or contemporary forms of music. Quese Imc, an award-winning hip hop artist & traditional Native singer, will lay emphasis on how to express yourself through creative writing and music. Quese will bring pieces of his music studio and lay out a short-cut version of how to produce a track. This will be the opportunity to use the power of your words, stories, experiences, and creativity with the power of music to express yourself. Whether you love hip hop, rock, or traditional Native music, you will learn to begin to find your own voice through music and lyrics.
Caught in the Lens: Digital Story-Telling
Trainer: David Bernie (Yankton Sioux)
Alyssa Macy is an accomplished hip hop, event, and activist photographer who uses her camera to mobilize people and raise consciousness nationwide through her pictures and writings that accompany her pictures. In this workshop, youth will learn to tell their own stories, express who they are and where they come from through pictures and producing a "digital story" with images and their own words. Youth will learn what makes a "good picture," how edit photos, layout, and how to use their words to express their ideas, thoughts, and perspectives. Participants will actually spend the afternoon shooting their own pictures and working together to weave a digital story of their community and lives.
NVision It! Expressing Yourself Through Filmmaking
Trainer: Sterlin Harjo
SHORT DOCUMENTARY PRODUCTION:
Trainer: Sterlin Harjo (Seminole)
Youth in this workshop will produce 30-60 second commercial for the event and exploring issues impacting them in their community. The commercial will include interviews with youth, community leaders and Elders during the event regarding the central issue chosen for the youth PSA campaign. Led by the award-winning independent filmmaker, Sterlin Harjo, participants will explore and study the visual medium and basic skill sets in journalism to generate concepts and ideas for the commercial. Commercial Production participants will use a professional digital video camera, field microphones, and the digital editing software, Final Cut Pro, to create a powerful blend of artistic and journalistic moving imagery covering the PSA campaign.
Indigenizing Visual Graphics: Graffiti Art
Trainers: Ryan Red Corn (Osage) & Jeremy Fields (Pawnee)
Ryan Red Corn is one of the hottest Native graphic and t-shirt designers in Indian Country. Many of the designs, logos, t-shirts you see today used by the Pawnee Nation Language Program, hip hop groups like Culture Shock Camp, or major national organizations like the Native American Rights Fund use graphic designs and shirts made by Ryan. Jeremy Fields, a hot graphic designer himself, a graffiti artist, t-shirt producer with Ryan, and a hip hop artist who will also team teach this workshop. Youth will learn the "101 of Indigenizing" visual arts and graphic design, meaning that there are many ways to represent Native cultures, values, ideas & opinions through graphic design and visual arts. Student will create a "graffiti art" large mural that ties into the theme to the youth designated PSA-project.
New Media & Film Schedule
Myron Dewey (Pauite)
Introduction to New Media & Film will follow Nvision crew schedule and create and over-view of Nvision classes, students, interviews based on Nvision theme. Elements of the workshop include:
Creating a story-line, examples: music video, PSA, short film, comedy, and language preservation
Filming to the Story-line
Create audio for commentary, narration and or audio visual for Film
Adding pictures to the story-line
Digitizing the film for Editing
Putting together the editing with the story-line
Finalizing the film project
Publishing the video for viewing
This is a public service announcement conceived, shot, and edited by Osage Nation youth.
This is a public service announcement conceived, shot and edited by Native American youth from Cannonball, ND, on the Standing Rock Indian Reservation.

N V I S I O N
an affiliate of the seventh generation fund

w w w . N V i s i o n I t . o r g




NVision Tour: Empowering Our Future Leaders
Standing Rock Reservation| Cannonball
Friday, July 27 – Saturday, July 28th, 2007
Promoting Youth Leadership, Empowerment & Wellness through Arts, Multi-Media & Music!
The NVision Tour is coming to the community of Cannonball at Standing Rock Reservation! DON'T MISS this fun and exciting FREE 2-day youth event that will include workshops in photography, film-making, graphic design, painting, web design, and performance. Other activities include a film screening, free give-aways (t-shirts, cds, iPods & more!), a community dinner and concert that will include Quese Imc, Happy Frejo, Meta & Bunky Echo-Hawk!
Hollywood Actor Casey Affleck ("Oceans Thirteen," "Drowning Mona") and Canadian TV Series 4Real will also be at & filming the event! The episode will air this Fall on MTV Canada, in the U.S. and internationally as well! So come out and meet Casey Affleck, 4Real & represent your Native youth pride on TV!
SCHEDULE OF NVISION TOUR EVENTS
Friday, July 27th
1pm: Cannonball Youth Activity Gym
NVision Tour kick-off. Free NVision Tour t-shirt & qualify to win door prizes with youth registration, ages 10-23 years.
-Youth workshops
-Film Screening: "My Darkest Hour" by Happy Frejo
-Meet Casey Affleck & the 4Real TV Series Host Sol Guy
-Snacks & Dinner Provided
Friday Night-Camping at Pow Wow Grounds! Come camp out with NVision, Casey Affleck & 4Real!
Saturday, July 28th
9am: Cannonball Elementary School
-Youth Arts & Multi-Media Workshops.
Come learn how to be the next generation of artists & multi-media experts & how to build a youth media campaign with NVision, Casey Affleck & 4Real!!!
-Lunch and snacks provided
7pm: Cannonball Youth Activity Gym
-Community Dinner
-Youth Showcase of projects created in NVision workshops
-Concert Featuring Quese Imc, Happy Frejo, Meta, Bunky Echo-Hawk, Myron Dewey & Ryan Red Corn
-T-shirt & door prize give-aways including an iPod!
-Filming 4Real TV Series with Casey Affleck, youth & community!
For more information and to pre-register please contact DJ Two Bears at 701. 854.7170 or 701.471.6216, or via email at: chief_i@hotmail.com. You can also contact NVision at 303.895.0995 email: nvision@pawneestar.com
To learn more about NVision, please visit on the web or myspace.
You can also visit 4Real on the web.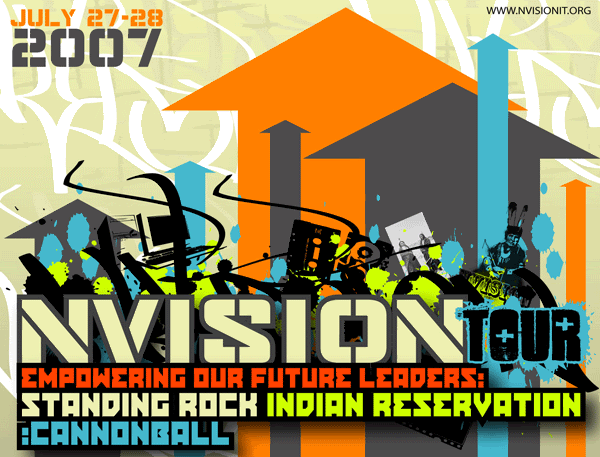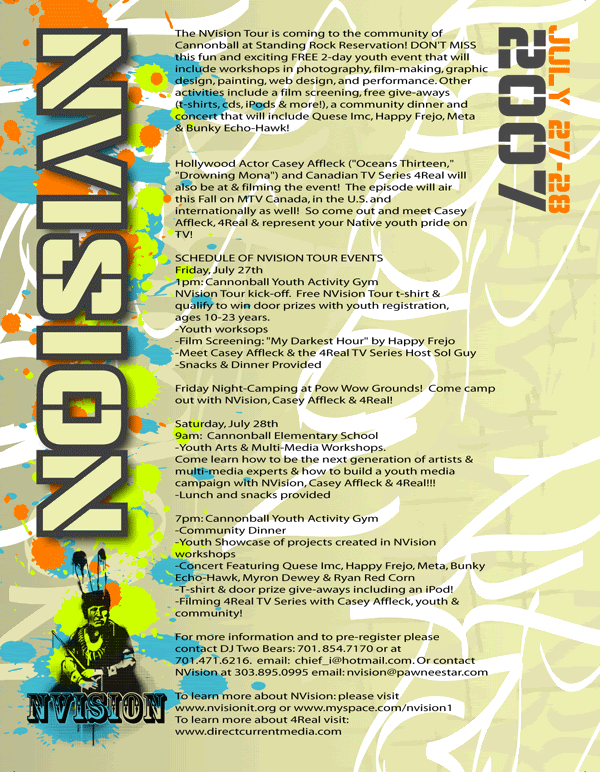 THE REVOLUTION WILL BE INDIGENIZED

FOR IMMEDIATE RELEASE MAY 31, 2007
CONTACT: Crystal Echo Hawk
Tel: 303.895.0995
Email: nvision@pawneestar.com
PAWNEE, OK-More than 85 Pawnee and Native youth participating in the NVision Tour youth event at the Pawnee Nation of Oklahoma over the Memorial Day weekend received a very special surprise when a celebrity guest arrived to partake in the festivities.
Actor Casey Affleck, a star from the upcoming film "Ocean's Thirteen," and an international TV Series "4 Real" arrived to cover the multi-media, arts, music and cultural event designed to promote leadership development for Native youth and young adults. The innovative Native youth event was organized by NVision, a national Native non-profit organization and affiliate project of the Seventh Generation Fund. NVision is comprised of some of the country's leading young Native professionals and visual and performing artists.
NVision was selected by 4Real producers to be featured in a series of eight, half-hour television shows that take celebrity guests on adventures around the world to connect with young leaders who, according to 4Real Producers "under extreme circumstances, are affecting REAL change. These are the REAL heroes of our time."
Casey Affleck is among other celebrity guests including Mos Def, Joaquin Phoenix, the Red Hot Chili Peppers, and Cameron Diaz who have visited or will visit communities all over the world to learn about young leaders, like those of NVision. The series will air this fall in Canada on MTV and producers are also seeking distribution in the U.S. and internationally as well.
Affleck, 4Real Host Sol Guy and 4 Real's camera crew spent the weekend with NVision members and Native youth participating in the NVision Tour multi-media and visual and performing arts workshops. Native youth spent much of Saturday attending workshops in filmmaking, music, dance, photography, visual arts, and leadership and culture.
Workshops led by NVision trainers not only gave Native youth a taste of basic skills in multi-media and visual and performing arts but also focused on the importance of celebrating Native identity, history, language and culture through contemporary and traditional forms of artistic expression. NVision trainers emphasized a message to Native youth of the importance of wellness, empowerment, leadership and the ability to successfully "walk in two worlds."
NVision youth participants, Affleck, 4Real and the local community were also treated to a series of community and cultural events including a dance sponsored by NVision Friday night honoring Native high school graduates.
On Saturday evening, NVision held a community dinner and concert at the Pawnee Nation gym. The concert centered around a showcase of youth-produced pieces including a short film, murals, music, dance and photography created during the NVision Tour workshops. Nationally acclaimed Native hip hop, funk, folk/rock and traditional musical artists also performed at the concert.
A painting created by the young acclaimed Pawnee/Yakima artist and NVision member Bunky Echo-Hawk was created live on-stage during the concert. Upon its completion Casey Affleck and 4Real Host Sol Guy both autographed the painting. NVision will conduct on online raffle for the painting from June1-15th on its website at www.nvisionit.org. Raffle proceeds will go towards creating an NVision scholarship for the Pawnee Nation College.
NVision hopes to take the NVision Tour to reservations and cities nationwide in the coming year. The non-profit organization is currently fundraising and seeking sponsorships for the NVision Tour. For more information contact 303.886.3859.
NVISION TOUR
WORKSHOPS & LIVE MUSIC TOUR
MAY 25-26, 2007
PAWNEE NATION OF OKLAHOMA
NVISION TOUR | EMPOWERING NATIVE YOUTH TO "WALK IN TWO WORLDS"
PAWNEE, OK-On Friday, May 25th and Saturday, May 26th, NVision, a national Native non-profit organization and affiliate project of the Seventh Generation Fund, will be hosting a free, two-day youth cultural and multi-media event at the Pawnee Nation of Oklahoma . The event seeks to empower Native youth through education and an intergenerational celebration of traditional and contemporary Native American arts, culture and multi-media geared to empowering some of tomorrow's future leaders of Indian Country. The NVision Tour will bring some Native America's hottest young visual, music, and media artists to rural Oklahoma for a weekend-long series of youth and community events.
An all ages dance honoring Native American high school graduates is scheduled for Friday night. On Saturday, a day of workshop sessions are scheduled with an aim to empower today's Native youth through leadership development, wellness, culture and media arts. NVision partners who represent today's young Native professionals will host the workshops including film-making, photography, graphic design, mural painting and music composition and recording.
The NVision Tour will host a community dinner Saturday evening at 6:30 at the Pawnee Nation Campgrounds followed by a live concert at 7:30 at the Pawnee Nation Wellness Center. The dynamic and interactive stage show comprised of traditional and contemporary Native music will feature Pawnee's own acclaimed hip-hop artists, Quese Imc, Happy Frejo, Meta and Culture Shock Camp in addition to Ryan Red Corn (Osage), a folk/rock artist and Native flutist Myron Dewey. A painting created by acclaimed artist Bunky Echo-Hawk during the concert will be raffled off to create an NVision scholarship for the Pawnee Nation College.
The event is free, but youth must register to participate in workshops running from noon-5:30pm. For more information on the NVision Tour visit www.nivisionit.org. Registration packets can also be signed and filled out at Pawnee Nation College beginning Tuesday, May 22nd, 2007. For more information, please contact Crystal at 303.895.0995.
FOR IMMEDIATE RELEASE:
September 29, 2006
FOR MORE INFORMATION:
Crystal Echo Hawk
TEL: 303.895.0995
EMAIL: nvision@pawneestar.com
HIP HOP & VISUAL ARTISTS JOIN FORCES TO SUPPORT NATIVE AMERICAN NON-PROFIT
BOULDER, CO-A unique event is coming to Boulder, Saturday, October 7th at the Republic of Boulder. National and local Native American and non-Native hip hop, visual, and multi-media artists are coming together to hold a benefit concert "NVision the Next 500!" to support NVision, a national Native American non-profit based in Boulder County. Featured Native American and non-Native artists have joined together with NVision and sponsors that include the Republic of Boulder, Basementalism KCNU Radio 1190 AM, the Seventh Generation Fund, and the Native American Rights Fund to support the NVision benefit. NVision is comprised of young Native professionals involved in youth development, arts, media, philanthropy, and entertainment who are promoting the development of Native youth and young adult leadership and contemporary expressions of Native American art, culture, education, and multi-media.
NVision the Next 500! will feature the award-winning Native American hip hop group Culture Shock Camp, comprised of Quese IMC and the "IndiGenius" DJ Shock B, and the Denver-based Rhythm Vision, both nationally acclaimed hip hop acts. Other Native American featured artists will include include DJ Thought of Basementalism/Crunk Brothers, Happy Frejo, Ara Cruz and Def Ch!ld Produx. Local artist Bunky Echo-Hawk who is seen as one of the rising stars in the national Native American art scene will be the featured visual artist. There will be an exhibit of Echo-Hawk's edgy and politically and socially conscious artwork. Echo-Hawk will also collaborate with Culture Shock Camp and do a live art performance during the event. The finished painting will be auctioned off at the end of the evening to benefit NVision. A multi-media show will also run throughout the night themed around NVision's mission by Santa Fe & Denver-based Dig Interactive.
"The idea for the NVision the Next 500! Event came first for the need to raise money for NVision and its special projects that include Culture Shock's Native hip hop documentary, a documentary on contemporary Native American identity issues by Laguna filmmaker Jenni Monet, and NVision's national youth development, multi-media, and performing and visual arts tour that will travel to Native American reservations and major cities in 2007," explained NVision Executive Director Crystal Echo Hawk. "We also wanted to be a part of creating positive alternatives to the dissension and negativity generated by Denver's annual Columbus Day Parade. NVision, together with a highly talented array of artists and sponsors, has put together a dynamic event that will promote the need to invest in the potential of young Native Americans, to celebrate Native peoples, build unity, and raise consciousness about issues impacting Native Americans today," added Echo Hawk.
"Through NVision Next 500! we want share and bring a message about building powerful and good things in our future for Native youth and peoples through culture, art, media, music, leadership development, and mutual respect," explained Brian Frejo aka DJ Shock B. Frejo who is co-founder of Culture Shock Camp along with brother Quese IMC, is also a nationally known actor, Cultural Activist, and member of NVision. "We want to show that as Native peoples we are also in a different place where we can embrace not only our past, but embrace what is in front of us, and encourage and work towards building positive alternatives that are going to make a difference. The launch and celebration of NVision represented through this event is the start of that local and national collective effort to build towards that positive progression," Frejo went on to explain. On a similar token, Rhythm Vision's Ryan Estes added, "When we heard of NVision and the work they were involved in there was no question in our minds that this was something that we wanted to support by performing at the event. NVision's mission definitely matched Rhythm Vision's own goal of promoting political and social consciousness through music and culture."
NVision the Next 500! will take place Saturday, October 7th at the Republic of Boulder located at 1095 Canyon Blvd. There will be a NVision Pre-Event and VIP Party from 7-9pm that will include a vodka and wine tasting and Native American themed buffet presented by the Republic of Boulder and an artist "meet and greet." Pre-Event party packages are $30 and VIP packages start at $50. The doors open to the general public at 9pm. Tickets are $10 at the door and you must be 21 and over to enter. All proceeds will benefit NVision, an affiliate project of the Seventh Generation Fund. Contributions are 100% tax deductible. For more information on NVision, event tickets, packages and sponsorship opportunities contact: Tel: 303.895.0995, Email: nvision@pawneestar.com or visit www.nvisionit.org.
4th Annual Anti-Columbus Day Event
Fine Line Café
Sunday, October 8, 2006
WHAT: Hip-Hop, Art & Higher Consciousness Event. Ticket sales to benefit NVision!
WHEN: Sunday, October 8, 2006, Doors open 8 p.m.
WHERE: Fine Line Café, 318 1st Avenue North, Minneapolis
FEATURING: Wise Intelligent, I Self Divine, Los Nativos, Culture Shock Camp (DJ Shock B, Quese IMC), Def Ch!ld Produx, DJ Nikoless & Plain Ole Bill on the Wheels of Steel, Live Art by Bunky Echo-Hawk, & Special Guests
TICKETS: $10 Advance/$12 Door, Tickets Available for purchase at Fine Line Cafe and Fifth Element
Stay tuned for announcements on Special Guests by adding "AntiColumbus Day Event" to your myspace friends list!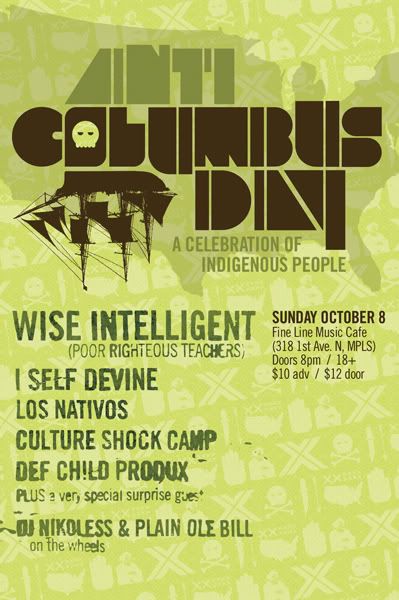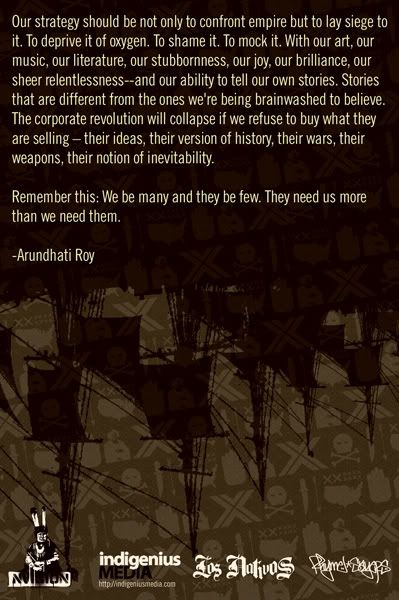 NVision Promo by Jenni Monet, NVision Trainer and Filmmaker