NVision Tour | Standing Rock, Friday, July 27 – 28

N V I S I O N
an affiliate of the seventh generation fund

w w w . N V i s i o n I t . o r g




NVision Tour: Empowering Our Future Leaders
Standing Rock Reservation| Cannonball
Friday, July 27 – Saturday, July 28th, 2007
Promoting Youth Leadership, Empowerment & Wellness through Arts, Multi-Media & Music!
The NVision Tour is coming to the community of Cannonball at Standing Rock Reservation! DON'T MISS this fun and exciting FREE 2-day youth event that will include workshops in photography, film-making, graphic design, painting, web design, and performance. Other activities include a film screening, free give-aways (t-shirts, cds, iPods & more!), a community dinner and concert that will include Quese Imc, Happy Frejo, Meta & Bunky Echo-Hawk!
Hollywood Actor Casey Affleck ("Oceans Thirteen," "Drowning Mona") and Canadian TV Series 4Real will also be at & filming the event! The episode will air this Fall on MTV Canada, in the U.S. and internationally as well! So come out and meet Casey Affleck, 4Real & represent your Native youth pride on TV!
SCHEDULE OF NVISION TOUR EVENTS
Friday, July 27th
1pm: Cannonball Youth Activity Gym
NVision Tour kick-off. Free NVision Tour t-shirt & qualify to win door prizes with youth registration, ages 10-23 years.
-Youth workshops
-Film Screening: "My Darkest Hour" by Happy Frejo
-Meet Casey Affleck & the 4Real TV Series Host Sol Guy
-Snacks & Dinner Provided
Friday Night-Camping at Pow Wow Grounds! Come camp out with NVision, Casey Affleck & 4Real!
Saturday, July 28th
9am: Cannonball Elementary School
-Youth Arts & Multi-Media Workshops.
Come learn how to be the next generation of artists & multi-media experts & how to build a youth media campaign with NVision, Casey Affleck & 4Real!!!
-Lunch and snacks provided
7pm: Cannonball Youth Activity Gym
-Community Dinner
-Youth Showcase of projects created in NVision workshops
-Concert Featuring Quese Imc, Happy Frejo, Meta, Bunky Echo-Hawk, Myron Dewey & Ryan Red Corn
-T-shirt & door prize give-aways including an iPod!
-Filming 4Real TV Series with Casey Affleck, youth & community!
For more information and to pre-register please contact DJ Two Bears at 701. 854.7170 or 701.471.6216, or via email at: chief_i@hotmail.com. You can also contact NVision at 303.895.0995 email: nvision@pawneestar.com
To learn more about NVision, please visit on the web or myspace.
You can also visit 4Real on the web.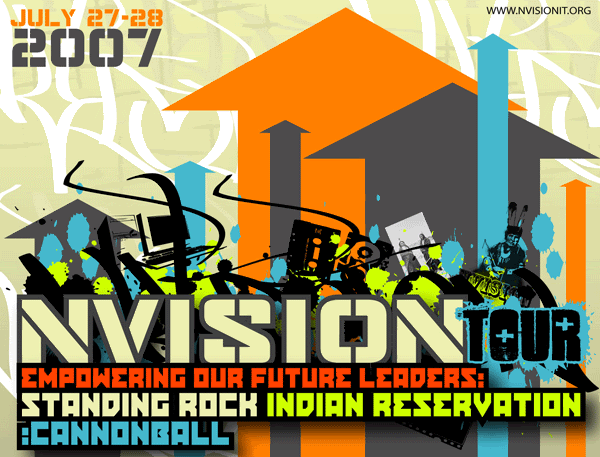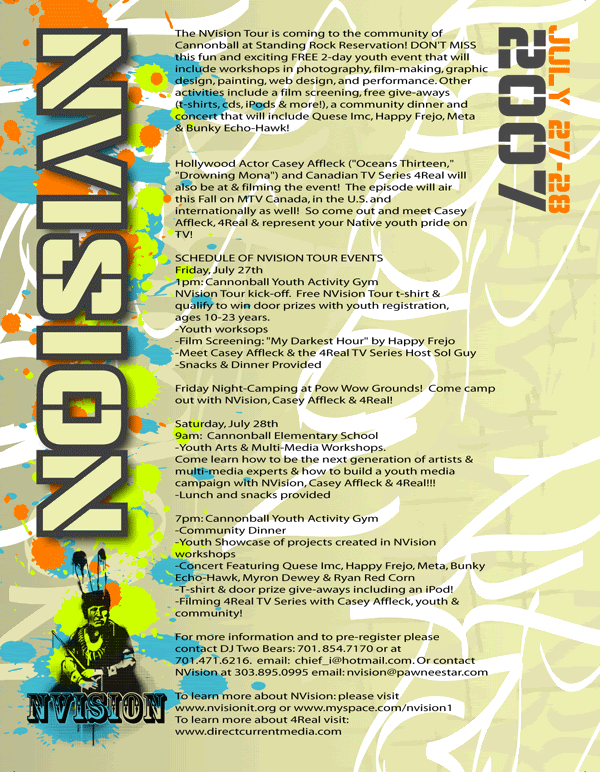 THE REVOLUTION WILL BE INDIGENIZED

This entry was posted on Friday, June 1st, 2007 at 11:37 pm and is filed under Uncategorized. You can follow any responses to this entry through the RSS 2.0 feed. You can leave a response, or trackback from your own site.