4th Annual Anti-Columbus Day Event – Hip-Hop, Art & Higher Consciousness Event. Ticket sales to benefit NVision
4th Annual Anti-Columbus Day Event
Fine Line Café
Sunday, October 8, 2006
WHAT: Hip-Hop, Art & Higher Consciousness Event. Ticket sales to benefit NVision!
WHEN: Sunday, October 8, 2006, Doors open 8 p.m.
WHERE: Fine Line Café, 318 1st Avenue North, Minneapolis
FEATURING: Wise Intelligent, I Self Divine, Los Nativos, Culture Shock Camp (DJ Shock B, Quese IMC), Def Ch!ld Produx, DJ Nikoless & Plain Ole Bill on the Wheels of Steel, Live Art by Bunky Echo-Hawk, & Special Guests
TICKETS: $10 Advance/$12 Door, Tickets Available for purchase at Fine Line Cafe and Fifth Element
Stay tuned for announcements on Special Guests by adding "AntiColumbus Day Event" to your myspace friends list!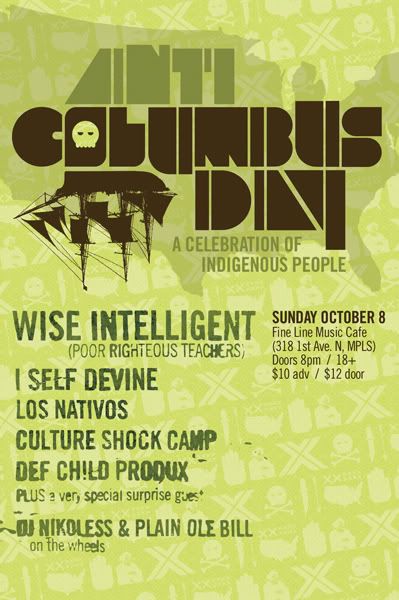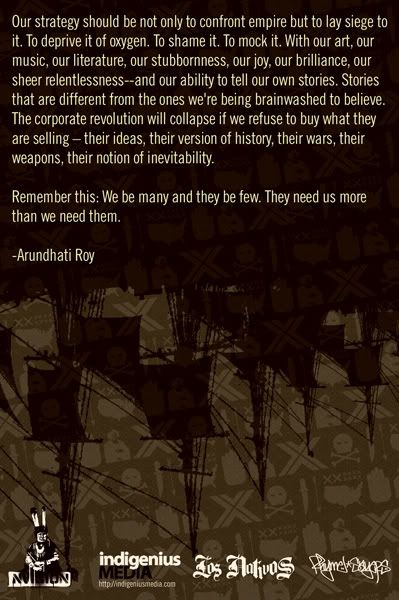 This entry was posted on Monday, September 25th, 2006 at 11:59 pm and is filed under Uncategorized. You can follow any responses to this entry through the RSS 2.0 feed. You can leave a response, or trackback from your own site.