Archive for September, 2006
FOR IMMEDIATE RELEASE:
September 29, 2006
FOR MORE INFORMATION:
Crystal Echo Hawk
TEL: 303.895.0995
EMAIL: nvision@pawneestar.com
HIP HOP & VISUAL ARTISTS JOIN FORCES TO SUPPORT NATIVE AMERICAN NON-PROFIT
BOULDER, CO-A unique event is coming to Boulder, Saturday, October 7th at the Republic of Boulder. National and local Native American and non-Native hip hop, visual, and multi-media artists are coming together to hold a benefit concert "NVision the Next 500!" to support NVision, a national Native American non-profit based in Boulder County. Featured Native American and non-Native artists have joined together with NVision and sponsors that include the Republic of Boulder, Basementalism KCNU Radio 1190 AM, the Seventh Generation Fund, and the Native American Rights Fund to support the NVision benefit. NVision is comprised of young Native professionals involved in youth development, arts, media, philanthropy, and entertainment who are promoting the development of Native youth and young adult leadership and contemporary expressions of Native American art, culture, education, and multi-media.
NVision the Next 500! will feature the award-winning Native American hip hop group Culture Shock Camp, comprised of Quese IMC and the "IndiGenius" DJ Shock B, and the Denver-based Rhythm Vision, both nationally acclaimed hip hop acts. Other Native American featured artists will include include DJ Thought of Basementalism/Crunk Brothers, Happy Frejo, Ara Cruz and Def Ch!ld Produx. Local artist Bunky Echo-Hawk who is seen as one of the rising stars in the national Native American art scene will be the featured visual artist. There will be an exhibit of Echo-Hawk's edgy and politically and socially conscious artwork. Echo-Hawk will also collaborate with Culture Shock Camp and do a live art performance during the event. The finished painting will be auctioned off at the end of the evening to benefit NVision. A multi-media show will also run throughout the night themed around NVision's mission by Santa Fe & Denver-based Dig Interactive.
"The idea for the NVision the Next 500! Event came first for the need to raise money for NVision and its special projects that include Culture Shock's Native hip hop documentary, a documentary on contemporary Native American identity issues by Laguna filmmaker Jenni Monet, and NVision's national youth development, multi-media, and performing and visual arts tour that will travel to Native American reservations and major cities in 2007," explained NVision Executive Director Crystal Echo Hawk. "We also wanted to be a part of creating positive alternatives to the dissension and negativity generated by Denver's annual Columbus Day Parade. NVision, together with a highly talented array of artists and sponsors, has put together a dynamic event that will promote the need to invest in the potential of young Native Americans, to celebrate Native peoples, build unity, and raise consciousness about issues impacting Native Americans today," added Echo Hawk.
"Through NVision Next 500! we want share and bring a message about building powerful and good things in our future for Native youth and peoples through culture, art, media, music, leadership development, and mutual respect," explained Brian Frejo aka DJ Shock B. Frejo who is co-founder of Culture Shock Camp along with brother Quese IMC, is also a nationally known actor, Cultural Activist, and member of NVision. "We want to show that as Native peoples we are also in a different place where we can embrace not only our past, but embrace what is in front of us, and encourage and work towards building positive alternatives that are going to make a difference. The launch and celebration of NVision represented through this event is the start of that local and national collective effort to build towards that positive progression," Frejo went on to explain. On a similar token, Rhythm Vision's Ryan Estes added, "When we heard of NVision and the work they were involved in there was no question in our minds that this was something that we wanted to support by performing at the event. NVision's mission definitely matched Rhythm Vision's own goal of promoting political and social consciousness through music and culture."
NVision the Next 500! will take place Saturday, October 7th at the Republic of Boulder located at 1095 Canyon Blvd. There will be a NVision Pre-Event and VIP Party from 7-9pm that will include a vodka and wine tasting and Native American themed buffet presented by the Republic of Boulder and an artist "meet and greet." Pre-Event party packages are $30 and VIP packages start at $50. The doors open to the general public at 9pm. Tickets are $10 at the door and you must be 21 and over to enter. All proceeds will benefit NVision, an affiliate project of the Seventh Generation Fund. Contributions are 100% tax deductible. For more information on NVision, event tickets, packages and sponsorship opportunities contact: Tel: 303.895.0995, Email: nvision@pawneestar.com or visit www.nvisionit.org.
4th Annual Anti-Columbus Day Event
Fine Line Café
Sunday, October 8, 2006
WHAT: Hip-Hop, Art & Higher Consciousness Event. Ticket sales to benefit NVision!
WHEN: Sunday, October 8, 2006, Doors open 8 p.m.
WHERE: Fine Line Café, 318 1st Avenue North, Minneapolis
FEATURING: Wise Intelligent, I Self Divine, Los Nativos, Culture Shock Camp (DJ Shock B, Quese IMC), Def Ch!ld Produx, DJ Nikoless & Plain Ole Bill on the Wheels of Steel, Live Art by Bunky Echo-Hawk, & Special Guests
TICKETS: $10 Advance/$12 Door, Tickets Available for purchase at Fine Line Cafe and Fifth Element
Stay tuned for announcements on Special Guests by adding "AntiColumbus Day Event" to your myspace friends list!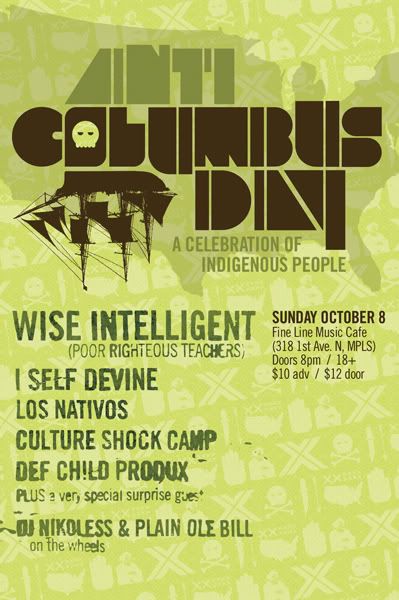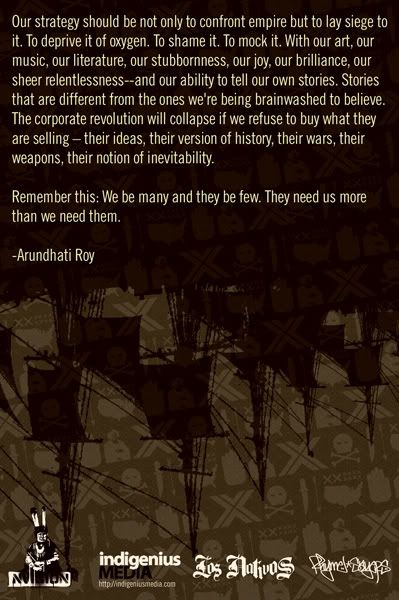 You are currently browsing the Nvisionit blog archives for September, 2006.